Ah… the Hoosier state. Home sweet home! There are just some things that only a Hoosier would understand. Have you ever had to explain these things to your non-Indiana friends?
1. When It Comes To Basketball, You Must Pick A Side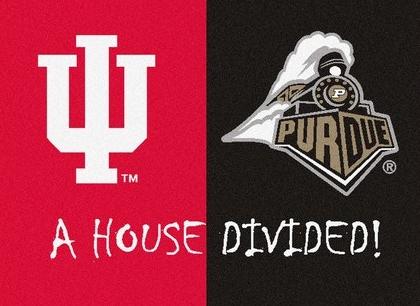 Source: quickmeme.com
Any Hoosier can tell you the tragic tale of young love, families, or friends being torn apart by the Indiana-Purdue rivalry. As a result, they might want to know which team you're rooting for before they get too close to you. I'm curious how many "house divided" stories there are due to the recent Boilermaker-Hoosier showdowns…
2. The Film "Hoosiers" Is Totally Accurate
Source: Flickr user adamjulian
It's not just about college level basketball in Indiana. High school basketball matters just as much as college basketball… if not more!
3. The Only Thing Worth Doing On A Friday Is Tailgating
Source: Flickr user iualumni
Hoosiers are almost as passionate as their pre-game parties as the actual basketball game. And when it involves copious amounts of beer and food, it's easy to see why.
4. The Best Part Of The State Fair Is Fried Everything
Source: Flickr user paul-w-locke
Live music, adorable animals… okay let's cut to the chase. The real draw is obviously all the delicious fried food. Fried elephant ears, fried Twinkies, fried Snickers, fried Oreos, fried everything forever.
5. Hoosiers Do Craft Beer Better Than You
Source: Sun King Brewing Company via Facebook
This state is home to craft brewing giants Three Floyds, Sun King, and Upland Brewing Company… so yeah… a whole lot better than you.
6. The Best Way To Eat A Giant Hunk Of Pork Tenderloin Is On A Bun
Source: Flickr user crazyunclejoe
Pork tenderloin sandwiches are one of Indiana's most delicious regional dishes… and that's saying a lot, because between the puppy chow and buttery corn on the cob, there's some competition.
7. And It's Best Served With A Dessert Of Hoosier Sugar Cream Pie
Source: Flikr user robynanderson
Obviously the worst thing about pie has always been all the fruit. Blech! Too healthy. Hoosier sugar cream pie is the perfect, sugary, delicious solution.
8. Don't Like The Weather? Wait Five Minutes.
Source: Flickr user macobyte
Indiana weather is notoriously fickle. It's not so unusual to pull out your winter coat one day and a pair of shorts the next.
9. Daylight Savings Time Has Never Been More Confusing
Source: giphy.com
There are probably no bigger proponents of abolishing daylight savings time all together than the poor Hoosiers who live on neighboring counties in totally different time zones. On the bright side, it's really easy to become a time traveller in Indiana.
10. Hoosiers Are Never Ever "Indianans"
Source: quickmeme.com
Hoo-the-heck knows what Hoosier means? It doesn't matter. It's what you call people from Indiana, always. And they will totally correct you if you get it wrong.
11. The Biggest Traffic Jam You'll Encounter Is Getting Stuck Behind A Tractor
Source: Flickr user wishymom
Yeah, they actually can just legally drive on the road at ten miles per hour like that.
12. The Region Is Basically Chicago
Source: Flickr user vanessa_hutd
Or at least the residents of Lake County (AKA the Region) like to claim they're from Chicago. And since they're part of the Chicago Metropolitan Area, and they're more likely to care about the Cubs-Sox rivalry than Indiana-Purdue, they might as well be.
13. Indiana Is So Not A Flyover State
Source: Tumblr user love-is-seeking-for-you-now
Just ask Jason Aldean. Or, in all seriousness, ask the over six million people who live there. "There's more than corn in Indiana," after all. Although…
14. Hoosiers Will Out Corn Maze You Every Time
Source: Flickr user lobsterstew
Think you're a corn maze master? All it takes is meeting one person from Indiana and you'll think again.
15. Most Hoosiers Are Really A Lot More Welcoming Than Their Billboards
Source: Flickr user wrigleywrld
Don't worry. Your average Indiana Joe off the streets isn't likely to condemn you to a fiery pit of doom for all eternity. But they will give you directions to find the best fireworks.
16. Racing Is A Big Deal… Like A Really Big Deal
Source: Flickr user littlebiglens
Okay, so no, technically not everyone in Indiana loves racing. Just, like, 99.9% of Hoosiers. And why not? When you're home to the Indianapolis Motor Speedway and host to the famous Indy 500, it's pretty hard not to get into it.
17. Hoosiers Own More Michael Jackson Merchandise Than You
Source: Flickr user jessicareeder
And they'll be perfectly thrilled to show you their collector condition albums and fifty t-shirts while they brag endlessly about how the King of Pop came from their home state (even if he was from the Region).
18. You Haven't Had Donuts Until You've Tried Dan's
Source: Dan's Variety Bakery Facebook
Forget whatever new weird breakfast trend is happening (looking at you, cronuts). Dan's Variety Donuts in Kokomo is all about simple, classic, ridiculously sugary and fried donut goodness. That's reason enough not to flyover Indiana right there.
19. There Are More Deer Accidents Than Car Accidents
Source: Flickr user a_man_called_larry
Okay, maybe not statistically. But if you're driving through Indiana at night, you'll get a lot more foreboding warnings to look out for deer than warnings to look out for other cars.
20. No, Indy Is Not Short For Indiana
Source: giphy.com
No Hoosier is ever going to call their state Indy. That nickname is reserved for their capital city, Indianapolis.
21. Proposing At The LOVE Statue… Yeah, It's Kind Of Overdone
Source: Flickr user tonamel
Sure, it might seem like a romantic gesture, but proposing in front of the LOVE sculpture at the Indianapolis Museum of Art might mean that you're sharing your proposal spotlight with six other couples at once.
22. The Indiana Beaches Are Totally Real Beaches
Source: Flickr user andrewmaciejewski
Sure, they might not be on a fancy ocean or anything, but you try not being impressed after a day of hiking around the Indiana dunes while watching the sunset.
23. South Bend Might As Well Be Renamed South Notre Dame
Source: Flickr user informatique
After all, it's the only reference anyone from South Bend can make so people know where exactly they're from.
24. Hoosiers Can Say Harry Baals Without Giggling
Source: reactiongifs.com
Come on, guys! He was a highly respected mayor of Fort Wayne. It's just a name! Not a name anyone is rushing to put on a Government Center but… you know…
25. The Best Comfort Food Is Amish Comfort Food
Source: Amish Acres Facebook
Most Hoosiers aren't about to give up their iPhones anytime soon, but that doesn't mean they don't enjoy a little Amish home cooking at Amish Acres.
26. No One Ever Orders A Mountain Dew
Source: Flickr user span112
In Indiana, it's all about Ski, which tastes pretty much the same to anyone outside the state, but Hoosiers will insist it's way better.
27. Holiday World Was The Highlight Of Every Hoosier's Childhood
Source: Flickr user breeze
What is Holiday World, you ask? It's a theme park that's every bit as whimsical and magical as it sounds. Located in Santa Claus, Indiana (seriously), the theme park is divided into four sections: Christmas, Halloween, Thanksgiving, and the Fourth of July. And yes, it's just as awesome as an adult.
28. It's Impossible Not To Feel Right At Home In Indiana
Source: Flickr user daychokesnight
The second you step into Indiana, you'll be hit with that small-town-vibe-whammy. It may take city folk a little getting used to, but it's impossible not to love the way everyone looks out for their neighbors, and how Hoosiers actually care when they ask you about your day.
story credit to C. Sheets